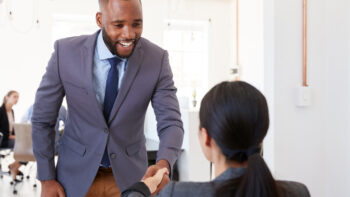 Landing the right job can make a huge difference for your future and quality of life. While a strong resume and cover letter are very important, you also need to have the right attitude and make sure that you're fully prepared to showcase yourself as an asset. With that in mind, we'll examine some critical ways you can set yourself apart from the pack.
Creating the Perfect Cover Letter
Since it is an introduction to your resume, the cover letter gives you an opportunity to make a good first impression. It generally consists of a few paragraphs that talk about your skills, job history and any past achievements. It's important not to make it overly creative in an attempt to stand out. Cover letters are simple documents, so play it smart by keeping it succinct and professional.
Crafting the Right Resume
There are some key tips to keep in mind while putting together a solid resume, and if you need help it never hurts to seek out a second or third opinion to obtain a better feel for how it comes across.
First, it's important to understand who you're writing the resume for. Will it go straight to a hiring manager? Or will it be submitted to a job search website, or somewhere else? It's wise to tailor your resume specifically to the audience who will be reading it so that you can make sure it meets the right goals. It also pays to understand that a resume is more than simply a listing of skills or qualifications, and it shouldn't be viewed with the expectation that it will automatically land you the job.
What Should Be on Your Resume?
Start by realizing a resume is essentially an overview that offers insight into why you should be considered for the job you're applying for. Outline your resume in a clear and neat fashion that is both legible and inviting to read, while also communicating your strongest points and message.
In terms of formatting, recruiters and HR managers agree: SIMPLE IS BETTER. Keep your resume black and white, and avoid "creative" fonts and other elements that detract from the information.
If you have recently graduated from college and do not have a lot of work experience, place your education toward the top of the resume. Be sure to include your GPA and any achievements if possible. If you have a few years of work experience, prioritize that section by putting it first. Make sure you use descriptive, specific sentences to describe your responsibilities. Also, be mindful of any action verbs and or keywords your hiring manager may be drawn to in order to command their attention.
Whether you should make your resume a single page or more will depend on the job you are seeking. In general, a resume should be just one page. If you are unsure about length, however, you may want to seek the help of a career coach or resume builder to see that it's properly formatted.
Acing the Interview
There are many things that come into play once you make it to the big interview stage, so paying attention to detail and coming across as confident are good steps in the right direction.
Attire
Choosing the proper interview attire is the first crucial step. This may include a tucked-in dress shirt and tie along with belt and dress shoes for men, or a dress shirt with a skirt or slacks for women.
Additionally, you should always wear a suit jacket to an interview. Many people believe that "business casual" interview attire means that a suit jacket is not necessary, but this is not the case. Make sure to stick to professional color schemes, which includes shades of gray and black, navy blue, brown or solid white. Finally, make sure your suit jacket matches your pants or skirt.
Interview Preparation
After deciding on the right outfit, it's time to develop an interview prep strategy that will help you put your best foot forward. Being as familiar as you can with the company and knowing what they'll be looking for can greatly improve your odds for coming across well.
Try to craft a professional approach by brainstorming questions you might be asked, and also making a list of any questions that you'd like to ask them throughout the interview. Research is key, so look online to create a list of the most commonly asked interview questions. Take note of any important information you can find about the company, while also taking time to practice speaking your most important answers and qualifications out loud before the big day. 
Be Okay With Feeling Nervous
Understandably, a job interview can put a lot of pressure upon the interviewee — especially if it's a position you truly want or feel like you deserve. Sadly, this can work against you if you get in your own head too much by questioning your very reasonable nervousness. 
Keep in mind that the person interviewing you is likely nervous too, and that ultimately feeling some anxiety before an interview is a good thing. It helps keep you alert and engaged.
However, if you feel particularly nervous or unsure of yourself it may be wise to consult with an interview coach for help. Interview coaches can help you feel more comfortable and prepared while also helping to identify any trouble areas you're not yet aware of. Overall, keep your expectations in check and walk into the interview with a positive attitude even if you're scared.
Finding More Help to Land the Job
If you've exhausted your options at finding a job on your own, there are still more techniques you can employ to help place you in a good-paying professional environment. Temp agencies are good options when the current outlook seems too competitive, or if you'd like to make money without having to commit long-term.
Rather than working under a single roof, you'll be an employee through the temp agency and therefore subject to the contract that you sign once they agree to take you on. Temp agencies are often a great way to gain experience within a competitive industry or make professional contacts that can benefit you long into the future. Try to pick one that specializes in the field or industry you'd like to work in long-term so that you'll be able to find new opportunities once your time at the temp agency comes to an end.